Selling a home in Quebec requires some planning and investing on your side, particularly if you want to attract first-time homebuyers in the shortest timeframe possible. There are a few selling strategies, such as professional home staging, that can speed up the process. Furthermore, as first-time homebuyers can rely on several government incentives, it makes sense to consider the factors that first-time homebuyers in Quebec are looking for as they are a very rewarding demographic to market to. Read on to familiarize yourself with property selling insights.
Who qualifies to be a first-time homebuyer in Quebec?
To qualify as a first-time homebuyer in Quebec, the buyer and their spouse must prove that they have not owned or co-owned a home in the last three years. In addition, their combined age must not exceed 70 years. Naturally, the property must be located in Quebec.
What are first-time homebuyers in Quebec looking for?
Aside from quite particular needs such as home accessibility, most homebuyers in Quebec have much the same preferences. This makes it easier for sellers to invest their money to satisfy their requirements. Let's have a look.
You won't go wrong if you update the kitchen and bathroom
Most first-time homebuyers in Quebec want to purchase a property they can move into as soon as possible. Furthermore, most of them want to decorate the living area to suit their aesthetic affinities. This means that updating the kitchen and bathroom is a highly sought-after home update in the Quebec real estate market.
In fact, as many as 81% of first-time buyers consider an updated bathroom and kitchen an essential factor when house hunting. Hence, it is no surprise most experienced brokers advise their clients to invest in these remodeling projects.
If you are short on time or money, the best approach is to track down the properties that sell fast. Also, take note of the features that the kitchens and bathrooms in your area have and introduce a one-up feature. For instance, most first-time homebuyers prefer a walk-in shower more than a bath. Other examples are kitchen islands and extra storage space. Young families buying their first home will appreciate these updates as they make everyday life much more organized.
Homes with open floor plans
If you plan to take your renovations beyond the kitchen and the bathroom, structuring the living area into an open floor plan is the way to go. Almost 60% of first-time homebuyers prefer Quebec homes with this kind of living arrangement. The reason behind this could be that open floor plans appear lighter and less confined. The added advantage is that the future owner can make adjustments according to their needs and preferences.
Of course, this does not mean you need to demolish every single wall inside your property. However, knocking down a wall or two could work wonders in terms of opening up the space. Most open floor concepts connect the living room, dining room, and kitchen. This is because this kind of arrangement allows for a greater flow of air and light across the space. Young parents are also attracted to this concept as it enables them to keep watch over their kids while cooking or cleaning.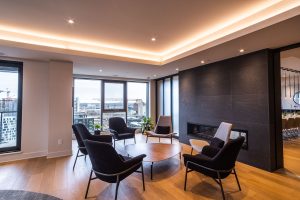 First-time homebuyers in Quebec prefer low maintenance homes
Put yourself in the shoes of a person purchasing their first home. These buyers are cautious as they will invest a great deal of their current and future income into this equity. They also have to hire a good broker, put down a down payment, pay off the monthly mortgage, arrange the relocation, buy furniture, hire a decorator, etc.
The list of expenses a first-time homebuyer has to cover goes on. Particularly if they happen to be moving into their new Quebec home with children, they will appreciate a property that will give them time to adjust to the changes without placing additional strain on their bank account. In that sense, a home that is easy to maintain and does not require a lot of remodeling is what most first-time homebuyers with families are looking for. For example, consider removing carpeting and other materials that collect a lot of dust.
Reducing the post-move in purchases for the buyer will significantly shorten the home-selling process as well. Homes with new or functional appliances, most notably kitchen appliances, sell out like hotcakes. First-time homebuyers usually do not have many furnishings, home appliances, and other essential devices. That is why they will consider a home that has the essentials such as a washing machine, refrigerator, vacuum cleaner, etc.
Improved energy efficiency
High energy efficiency and low maintenance are equally attractive features for first-time homebuyers. So, it makes sense to invest money into upgrades that will pay off in the long term. For instance, fiberglass insulation in attics, basements, crawl spaces significantly reduces energy waste and makes every square inch of the home accessible. This kind of intervention might cost you around $1,000 per room. However, consider that the home's resale value could increase as much as 120% per such renovation project.
First-time homebuyers will take into account that the home has state-of-the-art insulation, which will make the property much more attractive. In that sense, reducing energy bills is what first-time homebuyers in Quebec are looking for, more so than stylish furniture or trendy decor.